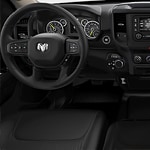 When you are in the market for a tough and powerful light-duty pickup, look at all that the popular Ram 1500 has in store for you. This newest light-duty truck from Ram has the durability features that make it ideal for taking out in rough driving conditions like those found at construction sites and on farms and ranches.
You no longer have to wrangle with loading and unloading heavy cargo because of an awkwardly designed rear bed gate. The Ram 1500 has a split-door power gate that swings open from the center. This feature lets you easily slide and load cargo like pallets and bales of hay into the pickup bed.
It also is designed to tow upward of 12,000 pounds without straining its engine or body. You can haul livestock to market or move cattle around your property easily with this pickup. It has the performance to work reliably and conveniently.